General Safety Considerations,etc. (All Classes)
Rollover #1 – (Double Click to Download)
Rollover #2 – (Double Click to Download)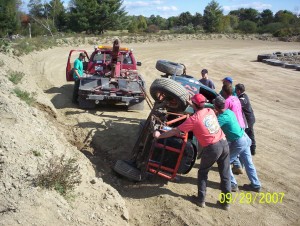 Miscellaneous
1.   All combustible materials must be removed from the interior.  Fire gets other people moving, but you can do without it.
2.   All glass must be removed with exception of the windshield, which can be replaced with lexan or screening.  All windshield components must be securely fastened – top, bottom, and both sides.
3.   Doors need to be welded, bolted, or strapped shut during racing activities, in such a manner that will assure that the doors will remain in the closed position in any racing incident.  Pre-1937 cars with fabric (turret) tops should cover that section of roof with sheet metal properly secured, or plated over the driver.
4.   All sharp edges and protrusions which could injure the driver or anyone else should be removed or protected.
5.  Master electrical disconnects and fuel shutoffs are recommended, and should be placed within reach of the driver and rescue crews. These should be conspicuously visible and clearly identified.
Roll Cages – and YES, our vintage race cars HAVE ended up upside down !!!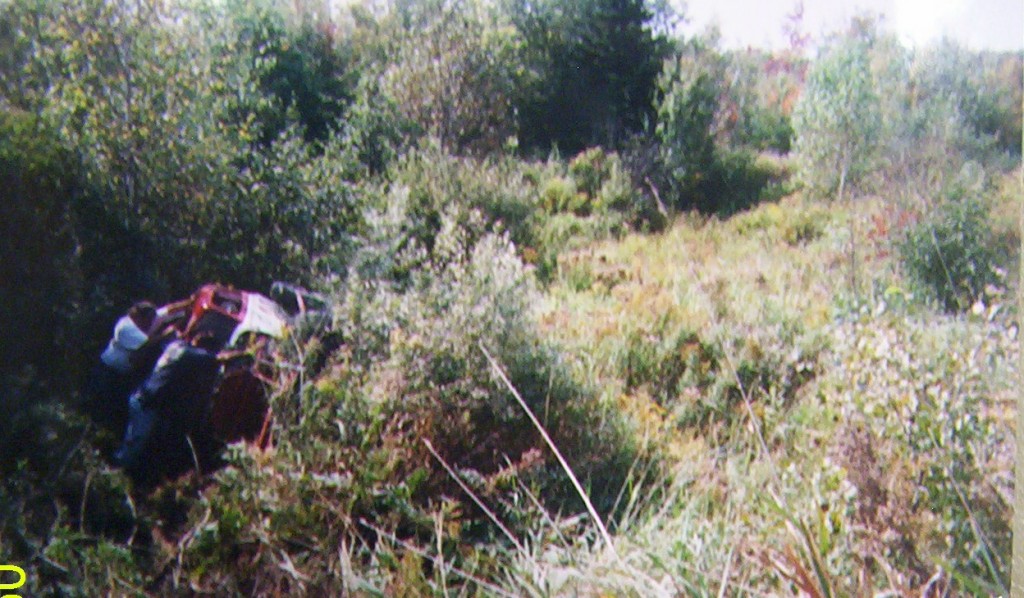 A "six (6) point" roll cage of standard .095 x 1 ¾'' roll cage tubing  OR 1 ½" schedule 40 black iron pipe should be the minimum cage being considered.  In the case of a rebuilt "original" car, the original 'roll cage' could be retained and expanded upon, so long as the completed cage assembly meets the intent of this section.  Safety has a priority over originality.
The four (4) uprights and the two (2) rear braces should be securely welded to the vehicle frame structure.  On damaged frames, this might require load distribution plates of no less than 3/16" plate steel welded directly to the frame.
The main cage structure must be stabilized side-to-side by at least one diagonal brace attached to the uprights immediately behind the driver.
The cage structure should be stabilized front-to-rear by single braces running from the top of the main cage down and back to the rear frame "kickups", as close to 45 degrees as frame and body configuration allow
There shall be at least one (1) dashboard level cross bar between the two forward vertical uprights.
There should be no less than three (3) horizontal door bars on the driver's side, and 2 on the passenger's side.  Early Modifieds in which the body has been narrowed may require 3 door bars each side to adequately protect the driver.
It is recommended that there be at least one 'roof bar' installed due to the unreinforced sheet metal roof area, AND that additional crash protection be provided UNDER the driver, as well.  Both areas are quite vulnerable when hit hard by a moving race car.
All roll cage welds should be of quality, demonstrating adequate penetration.  Each connection should be "fishmouthed", and welded completely around the circumference of the tube, if at all possible.  Gussets should be employed in stress areas of weakness.  No holes should be drilled in .095 roll cage tubing; and no holes larger than ¼  inch in iron pipe bars.  Any such holes should be kept to an absolute minimum.
Whereas many vintage race cars, in the distant past, fell victim to crash induced frame failure/collapse, particularly immediately ahead of the front body mounts, it is recommended that a front "hoop" be installed between the front cage (dash) uprights and the front radiator guard, and reinforced in such a manner as to create a "truss" structure of far greater strength.
Likewise, rear frame structures are particularly vulnerable to side impacts behind the rear wheels.  Therefore, x-bracing of the rear frame rails is also recommended.
A roll cage bar can easily break an arm or leg in a relatively 'soft' crash, so roll bar padding is recommended in those areas where driver impact may occur.
Steering wheel centers should be firmly padded.  Removable steering wheels can be a real advantage with modern racing seats.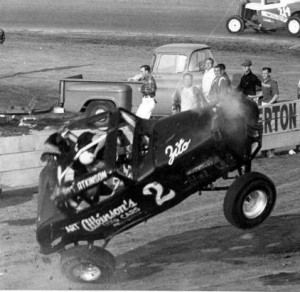 Belts/Harnesses
A five (5) point quick release harness should be the minimum considered, with web straps at least 2 inch, but preferably 3 inch in width.   This harness must be in good condition and securely  fastened to the frame/roll cage structure.  Strap attachments must be mounted in line with the direction of pull to be most effective.  Lap belts must be angled down and to the rear at 45 to 60 degree angle to the ground, and as close to the hips as possible, to be effective.  Shoulder straps should be mounted just below shoulder level.
Harness attachments should be capable of withstanding violent snap rolls and impact stresses (3000 #), and bolted with 3/8" grade eight (8) bolts.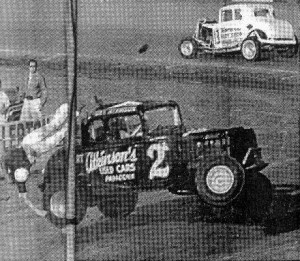 Sharp edges in proximity of harness straps must be protected by an edge guard – straps WILL move in a crash.
Window nets are recommended for all classes.  If the passenger door is cut down, consider using one or two old lap belts with quick release buckles to protect the opening from flying tires, etc.
Safety harnesses will also be inspected by Safety Committee members before any racecar is allowed to participate in any racing event.
Seats
A padded aluminum racing seat is required.  Seats must be firmly attached directly to the frame/roll cage structure by no less than six (6) 3/8 inch grade eight bolts and flat washers.  One must NEVER attach a racing seat to the floorboard where it might easily come loose in a crash.
Batteries
It is recommended that batteries be securely mounted OUTSIDE the driver's compartment.  However, batteries may be installed inside the driver's compartment, so long as they are SECURELY MOUNTED and SECURED inside an angle iron frame/support, and covered
Fuel Tank – * SEE GENERAL SAFETY CONSIDERATIONS #1
The safest and best fuel tanks are without question the metalclad neoprene bladder type racing fuel cells stuffed with foam.  These fuel cells are HIGHLY RECOMMENDED.  All cars with something other than an approved Fuel Cell will be inspected and must be approved before being allowed on the track.
It is understood that no fuel storage system can be 100% safe in a racing situation.  If you should choose to use something other than the above described fuel cell, it must offer significant protection from rupture and release of fuel.
Whatever fuel container is used,  connections must be secure and protected from impact from any direction.
Vents must be designed to prevent discharge of fuel if the vehicle is upset.
Regardless of what you choose to carry your fuel, it is necessary that you secure your fuel tank to the frame/roll cage in such a way that it is protected from direct impact, and cannot come loose in a snap roll.
In the 50's we used to run up to 35 lap features and come no where near draining our 5 gallon fuel tank, so large quantities of fuel, or large fuel cells are completely unnecessary for our purposes.  Five or eight gallons is more than sufficient.
NO fuel lines are permitted inside the driver's compartment. Fuel lines running to the engine must also be securely fastened and protected from damage.
Firewalls/Floorpans
The rear wheels and fuel compartment must be separated from the driver's compartment by a complete metal firewall, extending full width of the body.  Steel is highly recommended, as aluminum can "go away" in an intense fire.  There should be a complete original or fabricated metal floor pan from the rear firewall to the front firewall.  The front firewall shall be sufficiently complete to protect the driver from fire and hot engine coolant leakage.  Some holes may need to be plugged.  Race cars should have a hood completely covering the radiator and hoses to keep any escaping hot water from injuring the driver.  However, a hood might not be necessary, if the car is equipped with a full width glass or lexan windshield.
Windshields/Screens
Each car needs to have AT LEAST a ½ width glass or lexan windshield, or a similar ½" screen mesh (see firewalls above), to
protect the driver from flying debris, such as the rocks that seem to be prevalent in the Maine dirt.  Windshields must be
supported on all four sides.  Two (2) or three (3) vertical windshield ribs are also recommended.
Open Driveshafts
Open driveshafts need to be painted white for visibility, just in case they decide to depart the vehicle.  A complete 360 degree driveshaft safety loop must always be provided for an open shaft, at a point 6 to 12 inches behind the transmission.
Brake Systems
Each race car must be equipped with a properly functioning braking system.  Braking systems must equal or surpass the OEM system originally installed on that vehicle chassis.
Fire Extinguisher
Each race car must carry a fire extinguisher SECURELY FASTENED within convenient reach of the driver (original hanging brackets are not acceptable).  The extinguisher must be able to be released quickly by the driver in an emergency.
Personal Protection
Each driver must wear an approved racing helmet during any on-track event.  It is highly recommended that each driver
wear a full approved fire resistant protective suit, including gloves and shoes during any race event
Fuel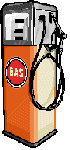 Pump Gasoline is the only fuel to be playing with, and is the only fuel allowed.
Skid Pan
For protection of the oil pan, a skid pan is highly recommended.
Bumpers/Guards/Rubrails
Bumpers should be securely welded or bolted to the frame and should not extend beyond the center of tire tread.  Bumpers must  be constructed in such a fashion that there are no sharp edges which could cut tires, or act as a 'can opener' to body sheet metal or fuel tanks.  Bumper ends should be rolled or otherwise fashioned to minimize locking of bumpers.
It is recommended that open wheel cars run secure rub rails on both sides of the car to minimize the possibility of a race car becoming airborne.  Open wheels will air launch quite effectively.  The ends of rub rails should be rolled back to the frame, rather than end with sharp angles that can cut tires.  Rub rails should not extend beyond the outside of the tires.  .
Cooling Systems
Drivers must be protected from hot fluids by either a firewall/hood or firewall/full windshield.  A coolant 'catch can' is also a good idea, and may be required on asphalt tracks.  A "catch can" should be made of metal or plastic, and not glass.  Coolant must be water only, except for cooling enhancing additive.
Paint/Lettering
Numbering is on a first come, first served basis – if an Association member already has your number, it is time for negotiation, or pick another.  It would, however, be appropriate to give preference to authentic race cars desiring their original number !  Numbers should be at least 15 inches high and wide enough to see, and on both sides of the car – the roof or trunk would be nice, too..